Join the graphic content revolution and
earn money

with your creations

A whole world full of icons with over 10 million visits every month and 30 million downloads.

Start uploading now!

Already have an account? Sign in
Why become a Flaticon Contributor?
Premium Content
Your creations will be exclusive to our Premium members.
Large earnings
The more icons you upload, the more you earn! Your payments will be on a pay per download basis.
Work at your own place
No timetables or deadlines to stick to. Pay attention to festivities and events throughout the year.
High visibility
10 million visitors come to our website every month. Your creations will be seen all over the world!
Non-exclusive agreement
Your content isn't limited to Flaticon, you can share it on other Microstock platforms, too.
Our panel works like this
Uploading your icons to the Flaticon panel couldn't be easier.
Follow the next steps to start earning money!
Create an account

Upload

Wait for them to be approved

Start earning!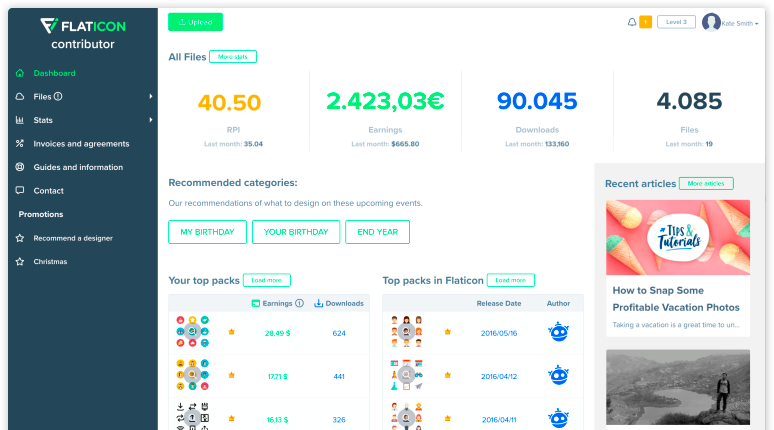 This is what our Contributors say
1. Richard and Ben are happy to work with Flaticon because "the team is young and fresh, with fresh ideas and it's a good environment for creativity to develop."

Smashicons

2. The majority of his 1,500 icons have a flat design and stand out for their shape and very clear meaning.

Dimitry Miroliubov
This is the awesome content we are looking for!
High quality flat, outline, solid, isometric... we love all kind of icons
Contributor tips and guides
Ready to join our universe?
Become a contributor today and turn your hobby into an income.
Register now